WE HAVE RELOCATED TO ROLLESTON!!!
Attraction Beauty & Lashes has a brand new purpose built studio based in Rolleston Christchurch. A boutique lash and beauty salon specialising in premium Eyelash Extensions, Lash Lifts, Waxing and Tinting.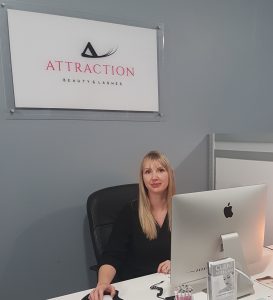 Hello!  I'm Safka and after graduating with my Diploma of Beauty Therapy I worked in salons as a Beauty Therapist for 6 years. I then started up my own salon back in 2011 providing high quality beauty treatments. I now specialise in Eyelash Extensions and regularly upskill and attend lash conferences to stay up to date with the latest techniques. I love cats and have three ragdolls, a little dog Rocco and a son who is 11.
Beauty Therapist/ Lash Stylist and Owner
14 Years experience.
City and Guilds London  Diploma of Beauty Therapy 2006
Advanced Diploma of Beauty Therapy 2006
Celebrity Lash certified Eyelash Extension stylist 2015.
Eyelash Extensions
We customise a look for you with many different lengths, thickness and curls available of luxury eyelash extensions to enhance your natural lashes.
Lash Lifts
A lash lift is a curl for your own natural lashes which lasts 6-8 weeks. Similar to a lash perm but using silicone shields to lift your natural eyelashes.
Waxing & Tinting
Waxing gives the brow a pleasing shape which gives your face a more lifted look overall. Tinting is the addition of colour to give definition.
Facials
A facial is a family of skin care treatments for the face, including steam, exfoliation, extraction, creams, lotions, facial masks, peels, and massage.